How it was run and won
Golden State champions once again, topping Boston 103-90 on Thursday night (Friday morning AEST) for their fourth title in the last eight seasons, with Stephen Curry named the NBA Finals MVP.
Curry scored 34 points for the Warriors, who claimed the franchise's seventh championship overall.
And this one completed a journey like none other, after a run of five consecutive finals, then a plummet to the bottom of the NBA, and now a return to greatness just two seasons after having the league's worst record.
For Curry, Klay Thompson, Draymond Green, and Andre Iguodala, it's the fourth championship. The first three rings came in 2015, 2017, and 2018, when Golden State was dynastic and made five consecutive trips to the finals.
Injuries, including ones that sidelined Thompson for 2 1/2 years, and roster changes changed everything. But this season, with Thompson returning around the midway point, the Warriors were finally back.
Back on top, too. Champions, again, denying the storied Celtics what would have been their record 18th championship, one that would have allowed Boston to break a tie with the Los Angeles Lakers for the most in league history.
This tale for the Warriors ended much differently than what was their most recent finals appearance against Toronto in 2019, one that saw Kevin Durant tear his Achilles tendon in Game 5 and then Thompson tear his ACL in what became the Raptors' title-clincher in Game 6.
The aftermath of that loss was exacerbated by Durant's decision to leave that summer in free agency to join the Brooklyn Nets and Thompson's own Achilles injury while rehabilitating his knee injury.
It thrust a Golden State team into a rebuild that became a reload.
The Warriors used their two-year hiatus from the NBA's biggest stages to retool their roster – adding a past No.1 draft pick in Andrew Wiggins, who excelled in his first finals, along with another rising star in Jordan Poole.
It all clicked. For Golden State coach Steve Kerr, it's the ninth championship overall after winning five as a player.
He's the sixth coach to capture four titles, joining Phil Jackson, Red Auerbach, John Kundla, Gregg Popovich, and Pat Riley.
Jaylen Brown led the Celtics with 34 points. Al Horford added 19. Jayson Tatum finished with 13 points but shot just six of 18 from the field.
Boston also committed 22 turnovers, dropping to 1-8 this postseason when committing 16 or more. It was just their fifth defeat in 22 title-series appearances.
That's a wrap
That's it for the play-by-play coverage of the NBA Finals game six. Thanks to all who logged in.
Congratulations to the Golden State Warriors, worthy champions yet again.
They were not necessarily the best team of the regular season but they were far and away from the best in the playoffs and the 4-2 finals result reflected their overall dominance of Eastern Conference champions Boston.
Steph Curry adds finals MVP to his two regular-season MVP trophies and now has four championship rings. He's worthy of being considered one of the top 10 players of all time now alongside the absolute icons of the sport.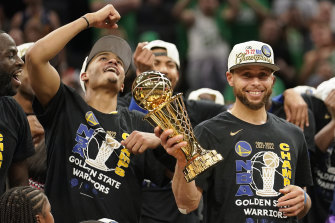 Curry named MVP
No surprises here – Steph Curry has been awarded the Bill Russell Trophy as the NBA Finals MVP.
"I hear all the conversations, I hear all the chatter. We hear the chatter. At the end of the day, it's about what we do on the floor. Ain't gotta talk about it, just got to do it and that's what this is about.
"We found a way to just get it done. It means a lot.
"We built this for 10, 11 years and that means a whole lot when you get to this stage because you know how to win. Everybody here who's been a part of this knows what it's about.
"This one's different, that's for sure."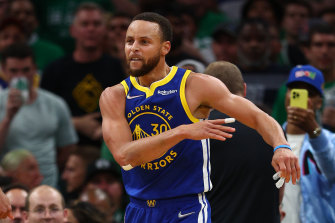 Kerr grateful
"If you hang around superstars, good things happen," Warriors coach Steve Kerr said. As a former teammate of Michael Jordan and Tim Duncan, he knows what he's talking about.
Trophy time
NBA Commissioner Adam Silver was unable to be in Boston to hand over the Larry O'Brien Trophy as he is in the COVID-19 protocols so his deputy, Mark Tatum, did the honors.
Six NBA finals in eight years with four wins is "a remarkable achievement", said Tatum.
"This is probably the most meaningful one," Warriors co-owner Joe Lacob said after receiving the trophy.
His co-owner, Peter Guber, added: "On the parquet floor of the Garden, two Boston guys winning it at the Garden" to a series of boos from the remaining Celtics fans.
Golden days'
Curry sheds tears of joy
"I'm so proud of our group. This is what it's all about," Steph Curry said post-game.
"At the beginning of the season, no one thought we'd be here except the people on this court.
"You can never take this for granted because you never know when you'll get back here. And to get back here and get it done, means the world."
Warriors win NBA championship
Golden State is the 2021-22 NBA champion.
With superstar guard Steph Curry scoring 34 points, they have outlasted the Celtics 103-90 in-game six at Boston for a 4-2 series win, their first since 2018 and the seventh in franchise history, the fourth in their golden run since 2014-15.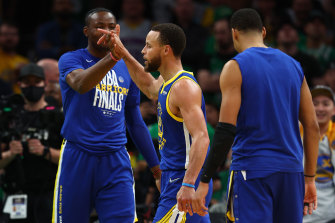 Last throw of the dice
Boston cut the gap to 12 with a Jaylen Brown three but Andrew Wiggins responds with one of the same and it's virtually all over with 1:30 left and Curry marching to the charity stripe with a 99-86 cushion.
Steph is on his way to his first finals MVP
With a team-high 27 points in this game, Steph Curry is certain to be named Finals MVP for the first time at the end of this performance.
Andre Iguodala controversially won the award ahead of him in the first title of their run in 2015 and Kevin Durant deservedly received the honor the other two times.
He's just poured in another three so make that a game-high 30 for the two-time season MVP.