An explosive and colorful fireworks display charms Minecraft fans, as players ring in the New Year with stunning creations.
Minecraft player RUOK0214 has wowed Minecraft players with a dazzling fireworks spectacle, built in-game to ring in the New Year. The colorful and explosive display used unique firework designs, and was met with praise on Reddit, quickly becoming a popular thread.
RUOK0214, who frequently uploads videos of redstone Minecraft creations on their YouTube channel, posted the clip of the spectacle to the Minecraft Reddit community. The one-minute clip, roughly translated from Korean as "the prettiest Minecraft firecrackers," shows a player pressing a button, before panning to reveal a synchronized fireworks display. Different firework patterns appear in the sky in various colors, timed one after the other, including charming heart shapes and a large rainbow, among other designs.
In a follow-up video, RUOK0214 revealed the finer intricacies of their Minecraft creation. The system was created using various mechanisms powered by redstone. The recording made use of the BSL shader pack, created by BITSLABLAB. This shader is made exclusively for Minecraft: Java Edition, and adds detailed lighting and shadows, among other graphical improvements.
RUOK0214 wasn't the only Minecraft player to put on a show for New Years eve. Reddit user Signal-Ad-6370 charmed viewers with a humble build in the mobile edition of Minecraft, blowing up a 2022-shaped hole in the ground using TNT blocks. Other players posted screenshots of 2022-themed builds on their servers. With COVID-19 restrictions putting a hamper on traditional New Year's Eve plans, some players opted for virtual celebrations instead, entering 2022 in a humbler fashion this time around.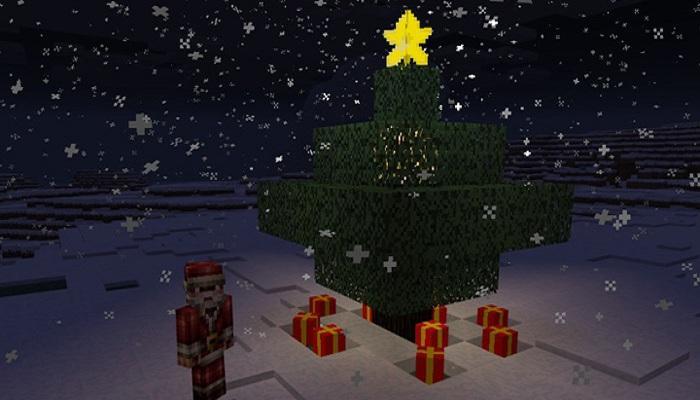 The Minecraft community has a history of producing stunning builds to mark annual events. The official Minecraft channel on YouTube also marked the start of 2022 by releasing a New Year's Eve video, in conjunction with their celebratory giveaway event which started on December 21 and will end on January 17. Giveaways include free maps, skins, and discounts on the Minecraft Marketplace.
Although New Year's celebrations have now come to a close, those who are inspired by these creations can find many tutorials on how to build gear for their own virtual parties, and have plenty of time to get prepared. For example, on Christmas day, gaming YouTuber BBlocks released a popular video "10+ New Year Build Hacks." The video teaches viewers how to build party objects such as a dance floor, DJ booth, 2022 light display, and firework displays, most of which can be repurposed for other holiday celebrations.